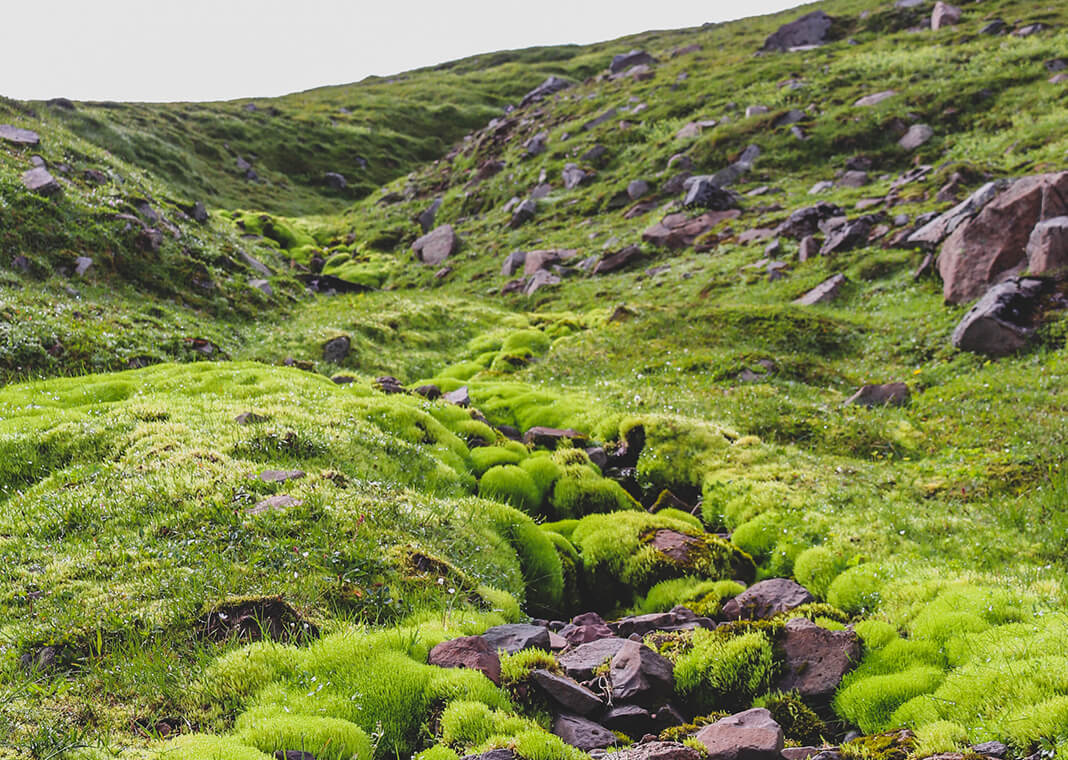 We learned quickly not to step on the moss.
On the flight to Iceland, one video after another cautioned against committing such a heinous act. There were signs at the airport too. Part of the instructions given to weary travelers arriving at the nearby geothermal lagoon advised all to stay well away from the prolific plant.
The moss—that bouncy-looking, greenish-yellow carpet covering nearly every stone and boulder the eye could see—must remain pristine. One misplaced bootstep could cost the plant 70 years; that's how long it takes to grow back!
Also, the moss in Iceland is highly flammable. Apparently, forgotten embers from a campfire found their way into the moss and resulted in the destruction of countless trees, another grievous sin in a country desperately trying to grow back its forests.
My wife and I didn't mess with the moss.
But we did look at it closely. Very closely. Like hover-your-hand-just-over-the-top closely. And I could see why people might want to step on it.
"It does look soft," my wife remarked.
"And bouncy," I replied.
"And it's everywhere!"
At times, it felt as though the entire country was covered in the stuff, as we looked around at rocks of hardened lava coated in springy green. And what would happen if I stepped on a bit? Would the moss police descend from the sky, scoop me up, and whisk me away to moss prison?
Who would know? Who would know it was me?
But then my wife and I would note the brown, decaying moss—nearly as prolific as its green, vibrant counterpart—and shake our heads.
"Seventy years," I muttered, wondering at the dead plant at my fingertips.
That timeframe—those 70 years of generational leaps—brought me immediately into contact with people who walked this land before, people who didn't step on the moss. And I begrudgingly stared 70 years into the future: Would there be another couple in their 30s wandering this same spot, commenting on the moss, and guarding their wayward footsteps?
Surely, those future people won't know to thank me, just as I have no ability to thank those countless pilgrims of the past who traveled the paths I walked.
But didn't I deserve to step on the moss and experience what all the fuss was about?
So often, the practice of selflessness is as mundane and seemingly insignificant as minding the Icelandic moss. We know the right way to proceed, but we get no praise, no acknowledgement of our righteousness. We likely wouldn't even suffer if we stepped out of bounds.
And yet, we hold back. We deny ourselves some small pleasure or convenience, knowing and trusting that our small acts amount to something meaningful. We hold in our minds the needs, hopes, and desires of another person—perhaps a person we do not and will never know.
Practicing selflessness demands that we recognize our responsibility to one another, to those who will come after us, and to creation itself. We give, knowing that we will get nothing in return. It feels lonely, and perhaps it should. Jesus encouraged us to practice our good deeds in private, to avoid the temptation to do good solely to appear good.
That, too, is the act of selflessness: to avoid stepping on the moss not so that others may know that we obey the rules of the moss, but rather so that others may simply enjoy the moss itself.
How many of our own opportunities to act selflessly—to act at all—are gifted to us from the selflessness of another, perhaps a nameless, faceless stranger of the past? How much moss do we enjoy because others thought of us 70 years ago?
As you go about your day, mind the moss. And consider what graces will grow over the next 70 years as a result.
Photo by Héloïse Delbos on Unsplash.