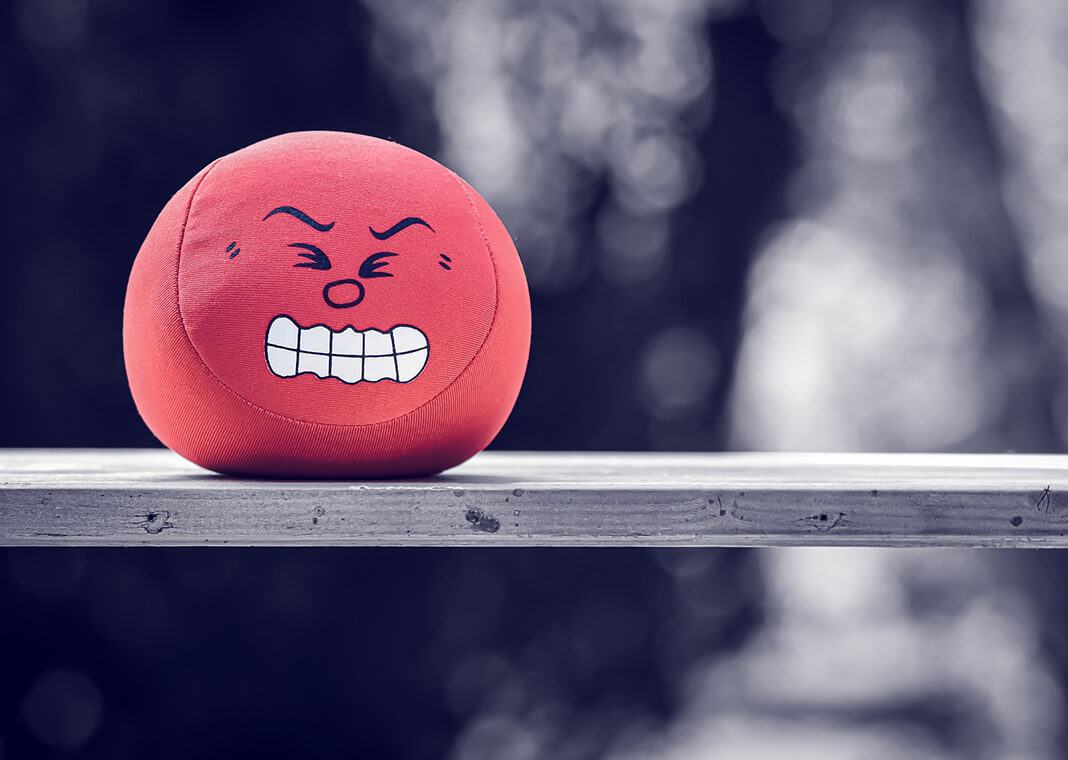 When I mentioned to my spiritual director that I was totally apathetic about my prayer life of late, and she asked if I were angry, my first response was a definite, "No." I know better than to be angry at God or blame God for the challenges of this life. She asked again, "Are you angry?"
I stuck to my excuse. "No, just apathetic. I'm just exhausted of praying, and I just don't care anymore." But when she asked a third time, anger came storming out of the emotional closet in which I had hidden it—partly because she had managed to pick the lock I had put on it and partly because it had grown a lot bigger in the past few months, and that emotional closet was getting cramped.
Awareness and Honesty
Ignatian spirituality requires a constant awareness of what is stirring inside and total honesty about what we are feeling. Anger is a feeling, just like joy, sadness, disgust, and many others. Our job is to be aware of those feelings and discern their source and our response. Are they born of fear? Invitation? Temptation? Love? The Spirit of Light? The spirit of darkness?
Denying a feeling is even there and shutting it up in an emotional closet denies an honest discernment and an honest response. God meets us where we are, without putting on happy faces. Emotions in themselves aren't bad. They develop from our God-given personalities and brains. Our job is to manage them appropriately and use them to discern what truly gives us fulfillment: oneness with God.
I kept thinking I should be happy now, grateful for all I have been given. But I wasn't. So, rather than opening that closet door and admitting how I was really feeling in prayer, I just avoided prayer and any intimacy with God.
I had nobody with whom to be angry. I wasn't angry at myself for any poor decisions I had made. But anger still raged in my spirit. I started to write in my journal as if I were writing to Jesus, to tell him what I felt going on inside. I told him all the things I hate about my current day-to-day existence. I moved into fears and unmet expectations and jealousy, all of which welcomed anger. I used lots of words I can't write here, and my blood pressure rose. There are definite physical reactions to our emotional responses. The temptation of letting out anger is to stew in it, feed it, and let it take charge of our actions and perspective. That resentment would be toxic to me, like a cesspool in my soul.
An Invitation to Grace
On the other hand, the invitation of facing anger is to allow the grace of God to move my spirit to a place of acceptance of what I can't change, forgiveness, and ultimately gratitude. This is the movement from the Third to the Fourth Week of the Spiritual Exercises on a daily scale: finding that the infinite love of God is bigger than my anger. I didn't make that movement happen, but I had to be honest with myself and God to be open to that grace. And it came.
Now when I look back over my day or sit in prayer, I ask specifically to notice what made me angry today. I can imagine sitting at a conference table with all the day's insights, emotions, and desires chatting up a storm. Then I let each, including anger, be heard. I discern, with God's help, what to make of their input and how to respond. Mostly I find a lesson to be learned and remembered. Sometimes it is a consolation to tuck away for the harder days to come. Often, anger gets noted to see if there is a pattern that drives it (like watching too much news!). Once in a while, anger screams about an injustice to which I feel called to respond, but I have learned my response doesn't have to be controlled by my anger. I can simply say, "Thank you for that insight, anger. I hear you. I am going to ask for compassion and courage to address that situation."
And some days, anger just rants, and there is no response possible or required. But after I get the rant out in my prayer, in my journal, or by talking to my spiritual director or husband, I at least know God appreciates my honesty and gives me the grace to hear, "That's all true. Breathe. My love will always be bigger than your anger. Contemplate divine love, not your anger or fear or resentment. You will be OK."