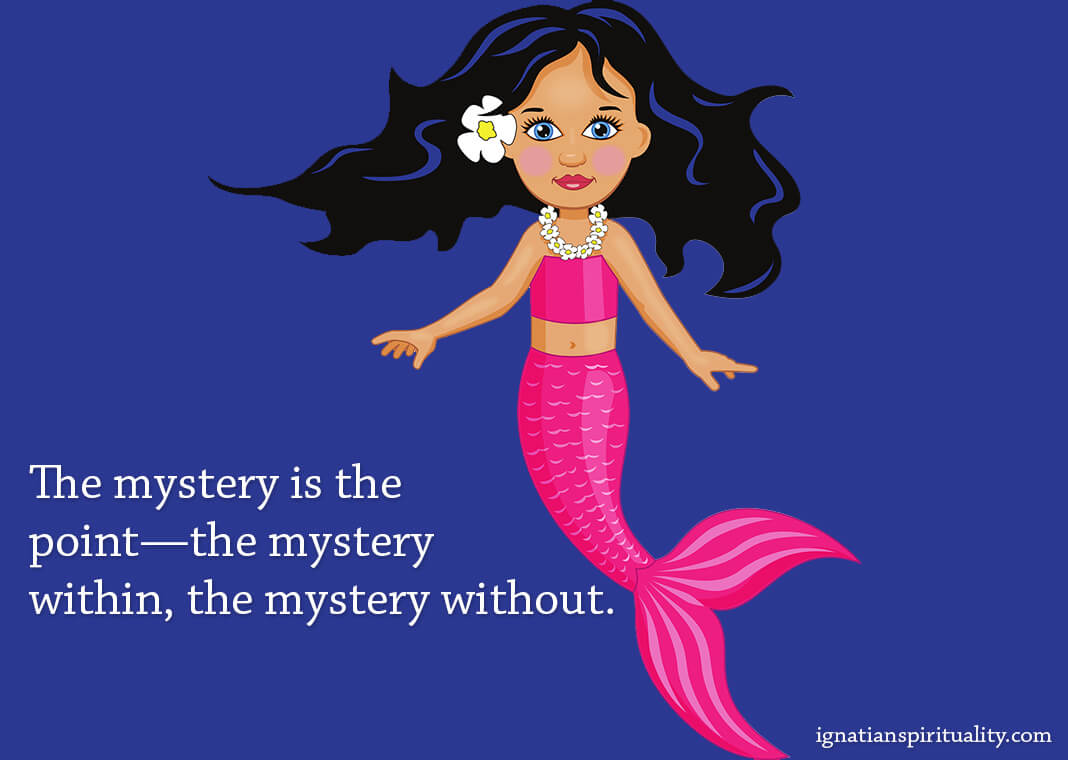 We hadn't expected mermaids.
Unicorns, sure. The queen? Most likely. Knights and jousting and turkey legs—obviously.
But mermaids? My daughters were enchanted.
"I have a question, Daddy," the eldest, four-and-a-half, said.
"Sure," I replied. "Ask the pirate." I motioned for the man with the beard and seafaring hat to lean over.
"Can mermaids talk under water?"
The pirate looked thoughtful for a moment, scratched at his beard, and then launched into a full explanation of the ins and outs of oceanic mermaid communication. It was like being part of a Discovery channel documentary. I was impressed. So was my daughter.
"Good question," I said. She smiled, her eyes never leaving the 12-foot creature swimming in the tank in front of us: the fish half all colorful scales and the girl half not all that different from how my daughter sees herself.
This was a new exhibit at the Pennsylvania Renaissance Faire and perhaps one of the best. Over the course of several hours, different mermaids came and went from within an enormous above-ground tank. The women would swim about for a while, popping up from time to time to say something in what I assume is the native tongue of Merfolk before diving back down to ferret out some half-buried treasure. (Treasure you could purchase, the pirate enthusiastically reminded us. Only $10 for a shell necklace foraged by a mermaid. We bought two.)
"I didn't know I was going to get to see a real, live mermaid," my daughter said as we walked away, half to herself, half to me. "I wasn't sure they really existed."
I smiled at the distant look in her eyes.
I love the Renaissance Faire. It's a manifestation of the stories I enjoy reading: sword fights and dragons and fairy magic. There's something about walking through those grounds with a sense that everyone there is willing to craft this wondrous, immersive story, together. We try to go yearly.
The Renaissance Faire, for me, is the embodiment of that great G. K. Chesterton quote—or, at least Neil Gaiman's paraphrasing of it: "Fairy tales are more than true—not because they tell us dragons exist, but because they tell us dragons can be beaten."
In that sense, the Renaissance Faire is a surprisingly religious experience. The magic and the mystical and, dare I say, the sacramental are right there on the surface. And the lot of us—garbed in medieval clothing—have a role to play in the cosmic duel of light and dark.
Sometimes, all we have is our imagination and the stories we're told, and from there we take a leap of faith into something bigger.
Swords are powerful not simply because of the sharpness of the blade but because of the values, hopes, and aspirations their wielding represents. Fairy gardens are wondrous not because of the artisanal goods that can be purchased but because of the sense that something mysterious might be lurking just around the corner.
And mermaids, well, they are the manifestation of two little girls' dreams, the collision of truth and legend, a reminder that the universe is vast and miraculous, and our imaginations can carry us to shores unknown. They remind us that sometimes, all we have is our imagination and the stories we're told, and from there we take a leap of faith into something bigger. That there's more to this life than what our eyes can see. That the mystery is the point—the mystery within, the mystery without. That we have within us what we need to battle the dragons at hand.
The Renaissance Faire may be an unlikely place for faith formation. And yet, my daughters left those happy grounds imbued with a sense of wonder and awe at the mysteries this life can hold. They left eager to learn more and to dive back into their books and act out their wildest imaginings.
They left with souls tilled and ready to receive seeds of a faith that claims the dead will be raised, that the God of the universe comes to them in unforeseen, unexpected places, and that hope in the face of the impossible is indeed hope well-placed.
Our God is not a mermaid or a unicorn or even a king or queen of royal descent. God is so much more, so much greater, so much further beyond our knowing—an invitation into mystery both intimate and vast. And yet, God desires to be known by us; God ushers us deeper and deeper into the mystery of Godself.
And how do we get there? Through a well-formed imagination, an imagination that makes room for surprise and wonder. An imagination that wanders the grounds of the Renaissance Faire not with cynical disbelief but with a disposition of awe, curiosity, and delight.
For through that awe, curiosity, and delight, God draws near.
Image by John Huxtable from Pixabay.