Partner.Co's Chief Marketing Officer Mark Patterson has been honored with two impressive awards at the esteemed 13th Annual Globee® Awards for Business and the 11th Annual Globee Awards for Leadership.  
Globee Award for Business: Marketing Executive of the Year

Mark's remarkable achievements in revolutionizing Partner.Co's marketing and making the company stand out worldwide have been recognized with the Gold Globee Business Award for Marketing Executive of the Year.

The Globee Business Awards spotlight organizations and individuals from around the globe who have demonstrated exceptional achievements in the world of business as trailblazers and visionaries.

For Mark to take home Gold, it means his work is not only pivotal in leading Partner.Co's marketing team to create and launch new branding and products, but it's also unparalleled across all industries.

Globee Award for Leadership: Chief Marketing Officer of the Year

Mark also received the Bronze Leadership Award for Chief Marketing Officer of the Year at the 11th Annual Globee Awards for Leadership, which recognize exceptional leadership across all aspects of business and beyond.

This accolade highlights Mark's exemplary leadership in branding and in defining the mission, vision and values of Partner.Co, while leading the company to the forefront of the industry through marketing initiatives.
What sets Mark apart from the competition?
Mark's leadership at Partner.Co has brought about a transformational change in the company's global market positioning. Fueled by success — and Starbucks — Mark shoots for the moon but is completely down-to-earth. Yet, his out-of-this-world skills in creating and defining company culture have already set us up to flourish.
With Mark's vision, everything from marketing materials and products to team building and organizational structure have been revamped. This expertise comes from decades of experience, as it's not Mark's first time growing a company. Before taking on the role of CMO here, he led all marketing efforts to grow a startup into a billion-dollar company within five years. He's also been a creative executive in the direct selling industry for more than 20 years.
Since April 2023, we've undergone a successful branding as well as a process of solidifying its identity. A major component of the new branding is focused on partnership. Through Mark's concept of "Partnership Marketing," we take the hard work out of entrepreneurship, eliminating huge start-up costs and offering a plug-and-play business model with easy-to-sell products. This partnership mentality extends to the company's core values, too, placing a strong emphasis on the success of others, as it directly translates to the success of Partner.Co.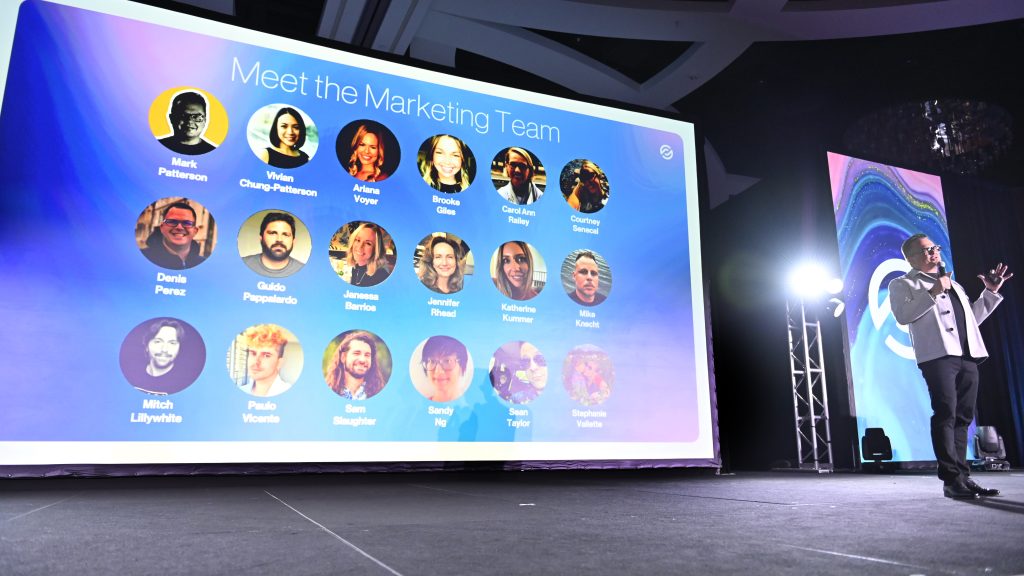 Mark's achievements in 2023 are nothing short of remarkable, but it doesn't come single-handedly. Mark's leadership style is grounded in the belief that success is a team effort. Despite leading an in-house creative agency of nearly two dozen employees, he's always a call or text away from his copywriters, graphic designers, videographers, project managers, digital marketers and event planners. He's revitalized team morale and directs his team of diverse talent — spread out across various countries and time zones — to partner together to create a global brand identity. Our marketing team is united by the work they do, which is some of the company's most important and most visible. 
Whether it's a video showing the products Partner.Co offers or a presentation with the company's business opportunity, Mark understands the critical role culture plays in branding. He knows that culture is what attracts people to a company, product, brand or idea. Who we are, what we do, why you want to join — it's all inside our marketing materials, but it extends far beyond the Marketing Department. In fact, globally, the company is seeing positive change in attracting new interest from consumers and Brand Partners alike.
That's thanks to his and his team's accomplishments — all a testament to their exceptional talent and commitment to excellence. With Mark at the wheel, the team is driving the company's success, positioning Partner.Co as an industry leader and instilling all aspects of the business with Partner.Co's brand values. This success is not only a reflection of Mark's skills as a creative C-level executive but also his ability to create and define company and team culture.
Mark has also brought about positive change for the industry overall, showing people they can get paid and love what they do at the same time. Our Compensation Plan was even voted number 1 out of over 750 companies thanks to a push he headed for field buy-in. This is just one example of how his dedication to progress has positioned us for limitless success in the more than 50 markets we operate in, including the Americas, Europe, the Middle East, Africa and Asia-Pacific regions.
Congrats, Mark!